fall mini sessions
Though I am not quite ready to say goodbye to summer, I am starting to gear up for fall. Having been in the family photography business for 7 years, I have a pretty great sense of what families are looking for. In the past, I was reluctant to offer mini sessions. I didn't want to be constrained by time and I was also nervous if it took a family member a while to warm up. However, I have learned a few things over the years and am happy to announce that I will be offering mini sessions.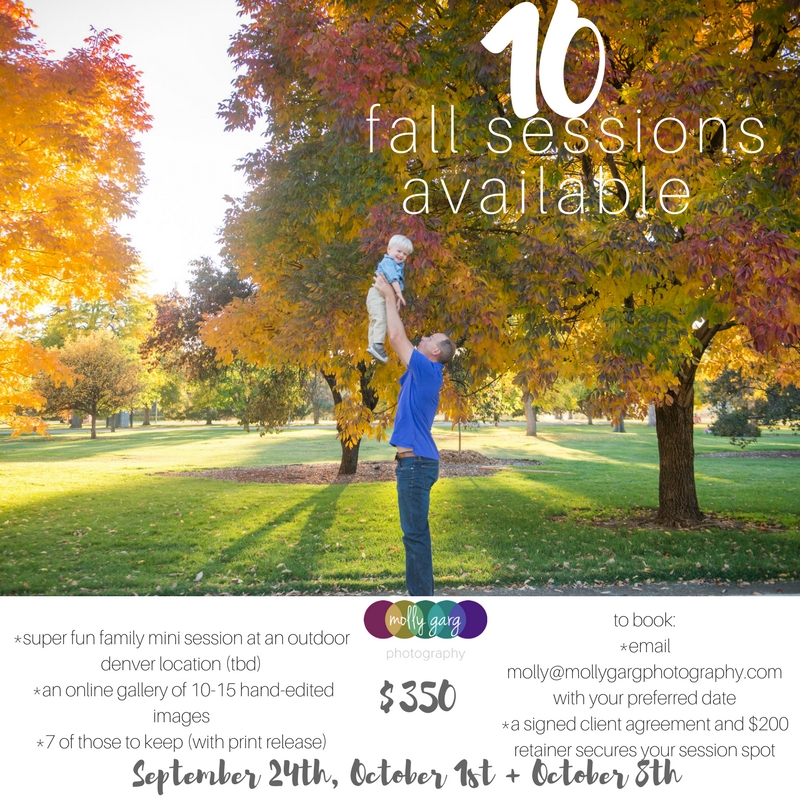 A few things to keep in mind regarding the fall mini sessions:
These are best for families with kids who have been photographed by a professional before
Due to the nature of these sessions, no pets are allowed (I am happy to schedule a full family session though if you would like to include your pet)
These will likely sell out quickly. To secure your date, please email me with your desired date. If I have availability, I will send you the client agreement with a link to pay the $200 retainer
Your session is not considered confirmed until both are received.
Please review my portfolio to get a sense of my style. If I don't fit your needs, I am happy to recommend another photographer
These sessions will likely last 15-20 minutes. They are short in time, but not on impact. I am confident that we will not only have fun, but capture great images! I look forward to hearing from you!
~Molly